Employment Opportunities
Ostiguy High prepares students to enter the workforce after graduation. Additional employment opportunities exist through ABCD and other programs.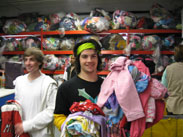 Photography with Derek Palmer
Working strictly with Journalism / Documentary-style photography, Derek Palmer portrays the emotions and stories behind his subjects through his photos.
Derek believes that photography can be a powerful tool in the recovery process because it gives students the opportunity to tell their stories and have their voices heard. Students participating in Derek's program learn basic photography skills and spend time photographing one another and the world around them. Through these photos Derek hopes to help OHS students to see their lives from another angle.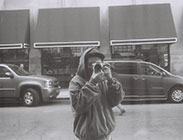 Improbable Players Interactive Drama Workshops
Improbable Players' interactive drama workshop program interweaves curriculum strands of health with those of drama and acting, using real life stories to educate students about substance abuse patterns and prevention. The Players comprehensive lessons share the twin goals of providing students with in-depth learning opportunities and producing a lasting effect on the school's culture. Learn More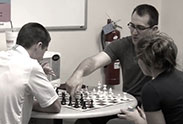 Restorative Yoga
Ostiguy High School students may elect to participate in a weekly, one-hour restorative yoga class. The class is taught by two YogaWorks trained, registered yoga teachers. The class focuses on restorative poses, breathing exercises, balancing, relaxation techniques, journaling, and integrating yoga with the 12-step recovery model. Students who have participated in this course in the past give it positive reviews and report that they feel calmer and more refreshed physically and mentally after attending class.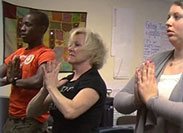 Sober Fun Activities
Boredom is reported by most students to be an obstacle to sobriety so students are encouraged to volunteer to organize schoolwide field trips that have included; paint-balling, skiing, ice skating, day trips to NYC, and to an indoor trampoline park. These activites are supervised by staff members but are planned and led by students.