The
Changing Tracks Initiative
is a community diversion program that seeks to significantly improve the life chances of youth of color in Boston affected by the juvenile justice system. Changing Tracks will assist juvenile justice involved youth through the application of an intensive case management model helping participants access gainful employment, education resources, and mentorship services. These supports are aimed at preventing individuals being expelled from school, incarcerated, or remaining court involved with the ultimate goal of diverting youth from the "school to prison pipeline".
What does Changing Tracks offer?
Marijuana Support Groups
Jobs and Employment Services
Mentorship
Decision Making Skills
Health and Wellness
Financial Literacy
Getting back into School
APEX
CORI Sealing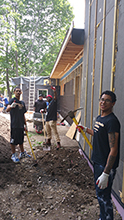 Go directly to Changing Tracks Referral Form
"Youth of color involved who have substance abuse or behavioral challenges are much more likely to be treated punitively than to be supported through access to counseling and support services."
Eligibility Criteria
14-24 years of age
Individuals who are court involved or have been involved with the
Juvenile Justice Department which includes:

the supervision of the JJS, either in out-of-home placements, on probation, or on parole; or
under a diversion program as an alternative to juvenile prosecution by the JJS;

No adult conviction
Youth 18-24 may have open cases, but cannot have adult convictions
Youth having trouble in school
Program Start Dates

Cohort 1
Info Sessions





When:

January 6th,13th, and 20th 2016


Where:

ABCD at 19 Temple Place, Boston MA 02111


Time:

4:00 p.m. – 5:00 p.m.

In order to schedule an Info Session please fill out the online application to be contacted.
Program Start Date:
February 1, 2016
Application Completion Deadline:
January 4, 2016
Use this form to make a referral:
Our Team
Tahara Samuel
Case Manager
(617) 348-6762
tahara.samuels@bostonabcd.org
Gregory Jacques
Employment Specialist
(617) 348-6723
gregory.jacques@bostonabcd.org
Jumaane Kendrick
Program Manager
(617) 348-6758
jumaane.kendrick@bostonabcd.org
Action for Boston Community Development, Inc. is an equal opportunity employer and program. Auxiliary aids and services are available upon request to individuals with disabilities. ABCD, Inc. is funded in part by a grant from the US Department of Labor.